All too often, the language barrier proves to be an obstacle to communication, wastes precious time and can be a cause of failure in business matters. Say goodbye to this issue by benefitting from the support of an interpreter. This professional is a true ally during meetings, video conferencing, trade fairs, conferences, business trips and more in which you do not speak the language being used to a sufficient degree.
Our professional interpreters can express themselves fluently in at least two languages and are selected based on the corporate culture, habits and customs of the target market. Mea Lingua offers interpreting services in Belgium and abroad.
Interpreters are first-class allies for many businesses.
1.

Liaison interpreting service
Liaison interpreting is only viable in small groups, with a maximum of four speakers. In practice, this type of interpreting involves translating what the speaker says at regular intervals, on an almost simultaneous basis. In this context, the role of the interpreter is to act as a liaison between the different speakers, in order to ensure accurate, fluent and optimal communication between the parties.
This service can be provided for one-on-one interviews, trade fairs and exhibitions, company visits and professional trips with a small number of participants.
2.

Consecutive interpreting service
Consecutive interpreting is viable with a larger number of speakers. The speaker talks for a period of time. The interpreter, who is at their side, listens carefully and takes notes. The speaker then pauses to allow the interpreter to translate their words.
This service can be used for meetings, group interviews, workshops, working groups, training sessions, etc.
3.

Remote or telephone interpreting service
The digital era has made communications easier than ever. Today, video conferencing replaces many in-person meetings. As a result, interpreting through video-conferencing technology – that is, remote interpreting – is becoming the new normal.
In addition to the easy set-up, remote interpreting makes it possible to considerably reduce costs and commute times for the various participants. This also improves the availability of interpreters, since they do not have to spend time travelling back and forth.
4.

Simultaneous interpreting service
Simultaneous interpreting is a little more complex than consecutive or liaison interpreting, since the interpreter must quickly convey what the speaker is saying while they are talking. Simultaneous interpreting is often using during large conferences and assemblies, such as the United Nations, and is an intense exercise that requires an extreme level of concentration. The interpreter translates what the speaker is saying into the microphone simultaneously and the person listening hears the translation through headphones. Simultaneous interpreting requires highly qualified interpreters, sometimes with their own special equipment is the location of the conference is unable to provide it.
Our interpreters: your foreign-language business partners
Where possible, we ensure that the same interpreter works with you from one job to the next (business trips, company visits, trade fairs and exhibitions, etc.). By working with you on a regular basis, they get to know you, understand your expectations and work with this in mind. They also understand your company and products and, over the course of your work together, they become a real expert and a key partner.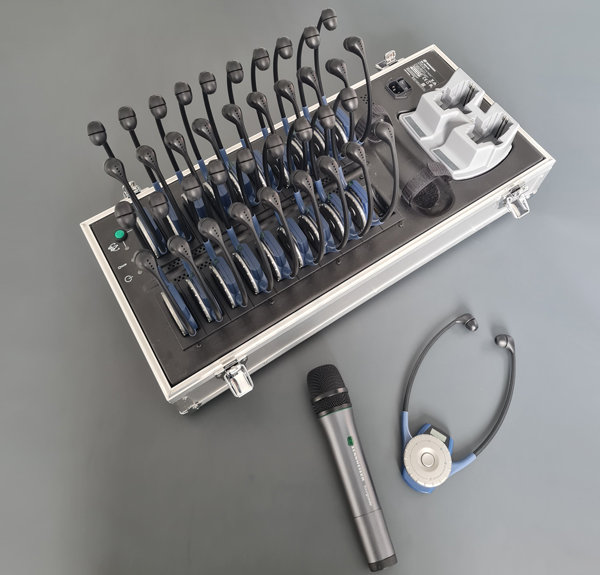 InfoPort bidule interpreting
​
Simultaneous interpreting services cannot be organised without equipment. Indeed, it is crucial to use professional equipment to provide a satisfactory experience for speakers and listeners alike.. For events with ten to forty participants, our interpreting agency provides an interpreting bidule, as it is called in the industry.
This sound system is an alternative to the interpreting booth. The interpreter is placed in an isolated corner of the room and is equipped with a microphone. Those present at the meeting are equipped with headphones that transmit the interpreter's translation in real time. This equipment generally offers seven channels and therefore allows for simultaneous translations in seven different languages. The listener simply chooses the channel based on the language they want to hear. However, if there is no booth, we recommend a maximum of two languages, as the interpreters are not isolated and can be distracted by their colleagues translating into other languages.
An interpreting booth is a dedicated, soundproof space with a built-in sound system. It is connected to a wireless transmission system that sends the audio from the speakers to the interpreters, and then from the interpreters to the portable receivers worn by the listeners. This configuration provides interpreters with optimal conditions by eliminating background noise.
This type of equipment is generally used during large events, such as conferences, seminars, diplomatic meetings or assemblies with more than fifty people. If the venue is not equipped with interpreting booths, our technicians are responsible for installing one or more, and remain on site until the interpreting services have finished in order to intervene quickly in the event of a technical issue.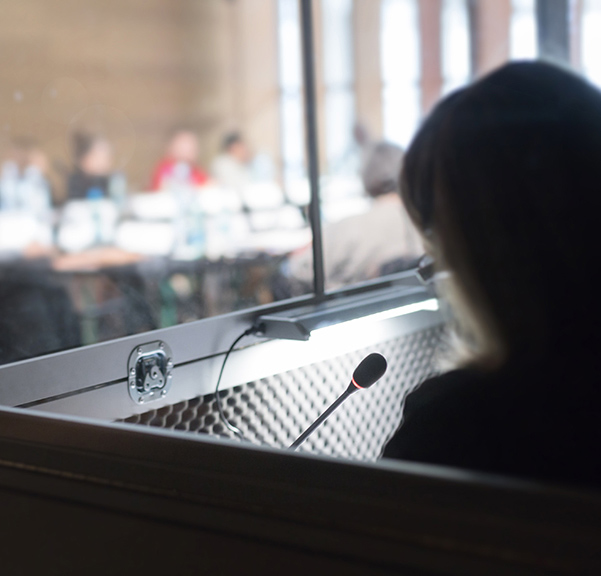 The main linguistic services offered by Mea Lingua
TRANSLATION OF WEBSITES WITH SEO
TRANSLATION OF COMMERCIAL DOCUMENTS
​
TRANSLATION OF TECHNICAL DOCUMENTS
​
TRANSLATION OF LEGAL DOCUMENTS
TRANSLATION OF TOURISM DOCUMENTS
Request information about interpreting services
Please do not hesitate to get in touch. We would be delighted to get to know you and answer your questions free of charge.