Consecutive interpreting service
group interviews
training sessions
group workshops
team-building activities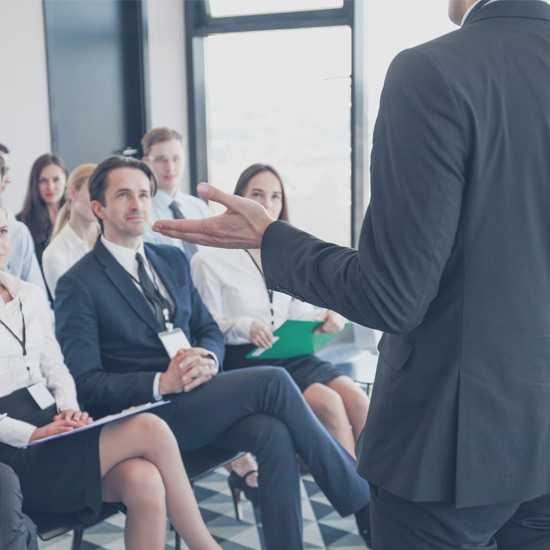 What is consecutive interpreting? This type of interpreting involves taking notes while someone is speaking and then recreating their speech in a foreign language. At Mea Lingua, our interpreters generally perform consecutive interpreting during training sessions, workshops or interviews with a large number of participants (15 to 20 people).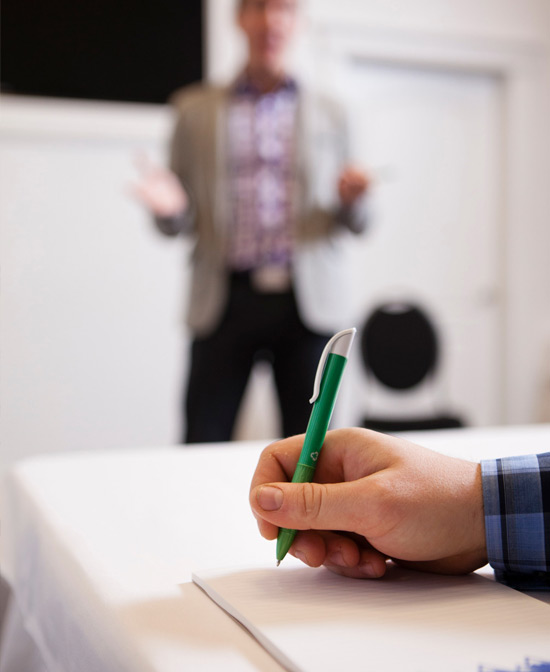 Consecutive interpreting involves translating what a speaker says orally after a certain time delay. In real terms, the speaker talks continuously for a few minutes and then pauses to give the interpreter the floor. They will have taken notes on what has just been said, which they will translate orally. Unlike simultaneous interpreting, in which the interpreter translates while the speaker is still talking, in consecutive interpreting the interpreter talks after the speaker. The interpreter's speech will last as long as the speaker's original speech.
Consider scheduling additional time for your training session or workshop, since the length of the speeches will be doubled (speaker and interpreter). If you have chosen a compressed timeframe, we recommend scheduling short speeches or opting for simultaneous interpreting services.
Some recent examples of our work
Interpreters for post-conference workshops
As an example, our interpreters took part in a conference on the environment organised in Valenciennes, France. While French- and Dutch-speaking participants attended several conferences in the morning, hosted in French and Dutch (with simultaneous translation provided by interpreters in booths), the afternoon was dedicated to practical work. All the participants were divided into small groups and took part in guided workshops, sometimes in French, sometimes in Dutch. Our interpreters facilitated communication between the participants, in French and in Dutch, so that they could understand, talk and take part without being inconvenienced by the language barrier.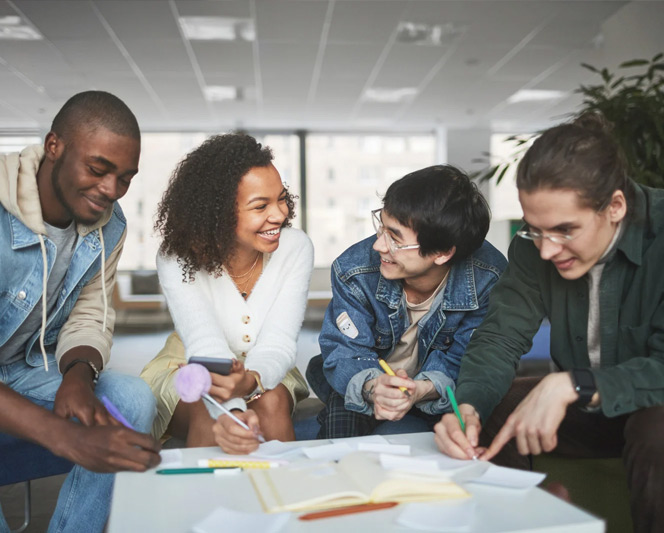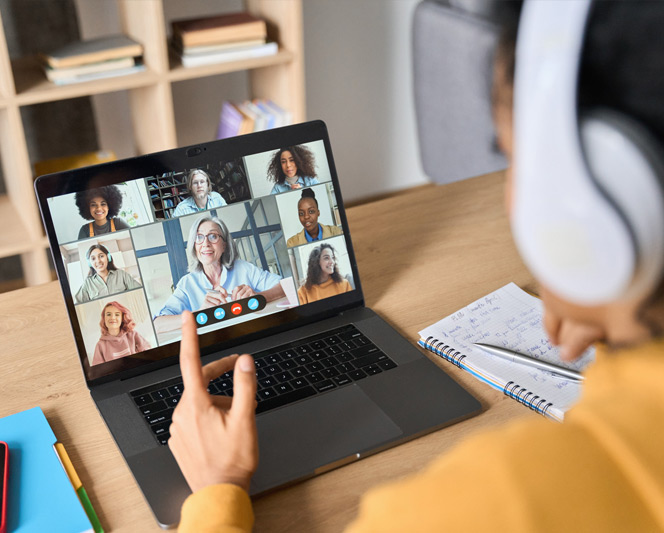 An interpreter for your remote group interviews
In large companies, managers often conduct group interviews for recruiting employees via video conference. So, while English may be an international language that most managers and employees can speak, not everyone uses the same vocabulary. This is why an expert consecutive interpreter can be very useful during interviews between several participants speaking different languages.
An interpreter for training subcontractors
The key role of the interpreter is to translate information and messages conveyed by the trainers, so that they are understood by everyone participating in the training session. Indeed, when a company uses foreign subcontractors, for example, it is also necessary to train workers, labourers and managers in the processes, methods and regulations in effect in that country.
These training sessions aim to be interactive, and participants are encouraged to react and ask questions on a regular basis. With consecutive interpreting, the interpreter is located around the table or alongside the trainer (and not in a booth), so they can convey information in real time, including body language, for example. The goal of having an interpreter is to break language barriers and guarantee for the employer that important information has been understood and taken in.
Services included in consecutive interpreting
Briefings
Quality is key at Mea Lingua. In order to master your company's field of expertise, the preparatory phase is a key step in consecutive interpreting. As a result, you must provide the interpreter with all information they need to do their job, namely the subject area of the meeting or the event, the message to convey, the content that will be shared and your expectations.
Costs related to the service
Interpreting services are generally offered based on a flat rate for a full day or a half day, in order to ensure the quality of the service and compensate the interpreter fairly. This system allows professional interpreters to plan their working time, and travel time, effectively.
Travel costs
The client is responsible for travel costs, which are calculated based on the distance between the interpreter's residence and the job location (for a return trip). Of course, we strive to find an interpreter who lives close to the job location where possible.
Per diem
For jobs lasting a day or more, we ask that you provide regular breaks to help maintain the interpreter's level of concentration. The client is also responsible for meals and drinks. If you are not able to provide a dining solution, we request a per diem to cover the interpreter's expenses for food.
Equipment and accommodation costs
If your event spans several days and takes place far from the interpreter's residence, you must also pay accommodation costs. In this specific case, we can handle the reservation, or you can do this on your end. We simply request that you inform us of the accommodation you have selected in advance and in good time.
When it comes to equipment, you do not need a bidule or a booth, but it is preferable to provide a microphone if the speaker is using one too. This all depends on the size of the venue and the acoustics.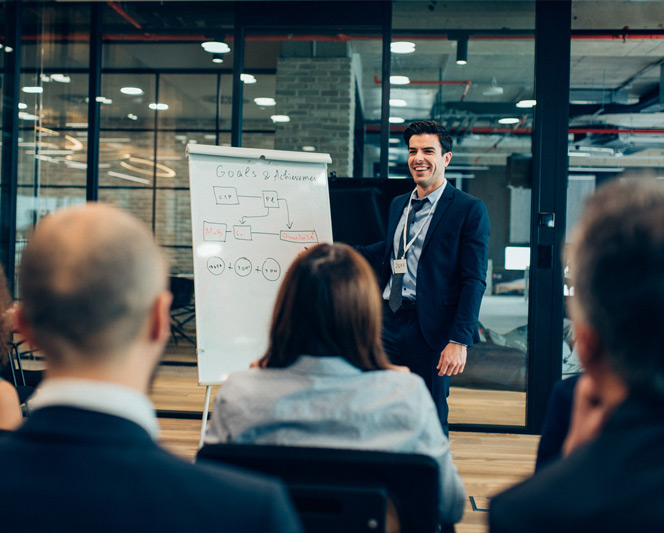 Consecutive interpreting services: what is available?
The list below is not exhaustive, but it represents the main settings in which consecutive interpreting is performed by Mea Lingua:
group interviews
training sessions
group workshops
team-building activities
The main linguistic services offered by Mea Lingua
TRANSLATION OF WEBSITES WITH SEO
TRANSLATION OF COMMERCIAL DOCUMENTS
​
TRADUCTIONS DE DOCUMENTS TECHNIQUES
TRANSLATION OF LEGAL DOCUMENTS
TRANSLATION OF TOURISM DOCUMENTS
REQUEST YOUR FREE QUOTE
​
Request a quote for a consecutive interpreting misson